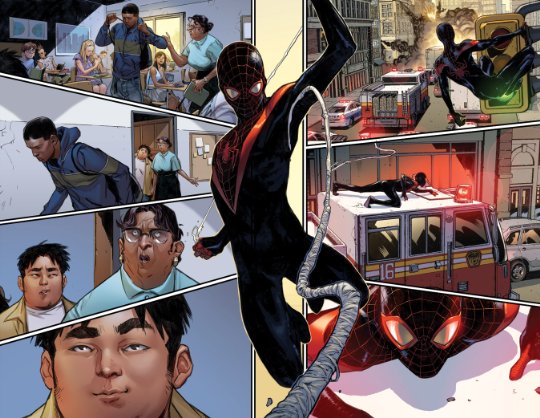 The Spider-Man universe has come a long way from Peter Parker web-slinging through the streets of New York and fighting crime, particularly over the last few years. Following the events of Superior Spider-Man in which Otto Octavius took over the body of Parker and turned his world upside down, our hero found himself to be the CEO of a major corporation upon his return. After that, there was Spider-Verse, which featured a pantheon of Spidey characters like Spider-Gwen, Spider-Man 2099, Spider-Ham and many more as they battled an interdimensional demon and changed Parker's world forever. Then, in 2015, there was the epic Marvel crossover event Secret Wars, which among its many other results brought fan-favorite Spidey character Miles Morales into the main Marvel universe. After years of starring in Ultimate Spider-Man, Morales is now simply Spider-Man, which brings us to this book.
This trade, which comprises the series' first five issues, is a breath of fresh air for Spidey fans everywhere. There's nothing wrong with what Dan Slott is doing with Peter as the head of Parker Industries in Amazing, and in fact, Superior is my favorite part of his epic run; but in a world where Peter is a big corporate big shot, I'm glad there is a book with a teenage Spidey trying to balance school and relationships with saving the world. And who better to headline this series than the dynamic duo of Brian Michael Bendis and Sarah Pichelli, two Miles Morales veterans?
The comic's greatest strength is its simplicity. Story-wise, Miles is still settling into his role as the city's new Spidey, and is discovering that it can be quite overwhelming. While the only people who know his secret are his dad and his best friend Ganke Lee, his mom and grandmother worry about his grades suffering and assume he's either on drugs or just rebelling.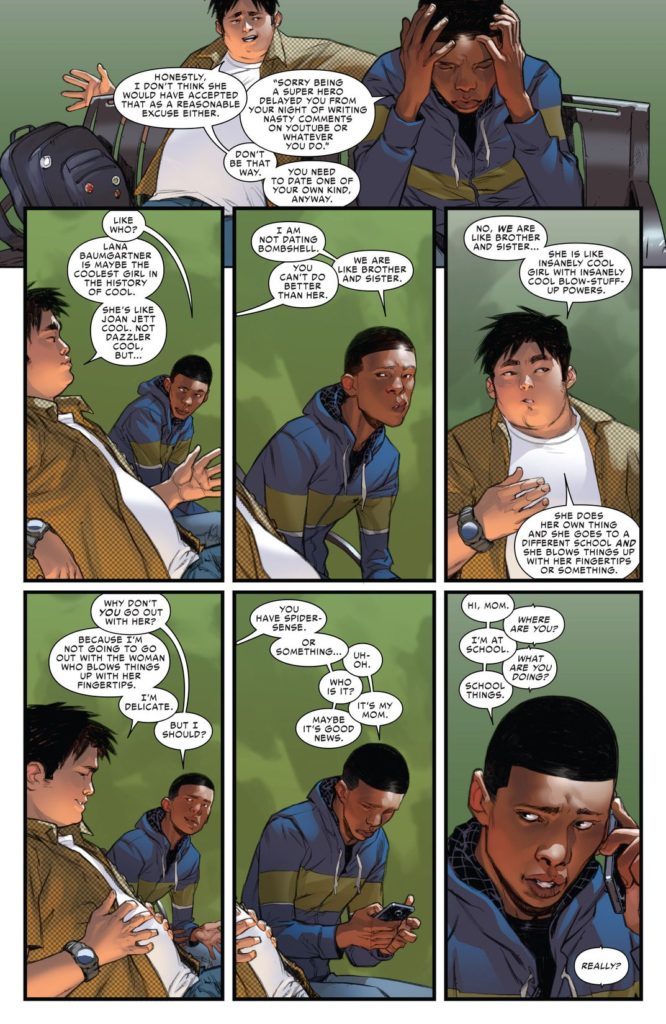 Meanwhile, the world takes notice of this new Spider-Man, particularly after he and the Avengers take on the demon Blackheart in the first two issues. Between a YouTube personality who's head-over-heels for him, and longtime Spidey foes Black Cat and Hammerhead wanting him dead, it's pretty clear that Miles has his hands full here.
Bendis' writing really shines here, which is to be expected given that he co-created Miles and wrote over a hundred issues of Ultimate. Still, it's amazing how in sync he is with the teenage spirit that pervades this book. Between the quippy dialogue between Miles and Ganke, and the protagonist's delightfully adolescent narrations, the story plays out like the best of 80s movies. It's energized and old-school in many ways, but also has a nice modern touch to it, particularly with the way it discusses race. By no means does it force these themes into the story, but Bendis does address the fact that Miles is half-black and half-Puerto Rican and filling the shoes of an iconic superhero, and that his best friend is a chubby Asian teenager. Also, the way Ganke geeks out over an X-Men character who joins their school in issue three is pretty fantastic.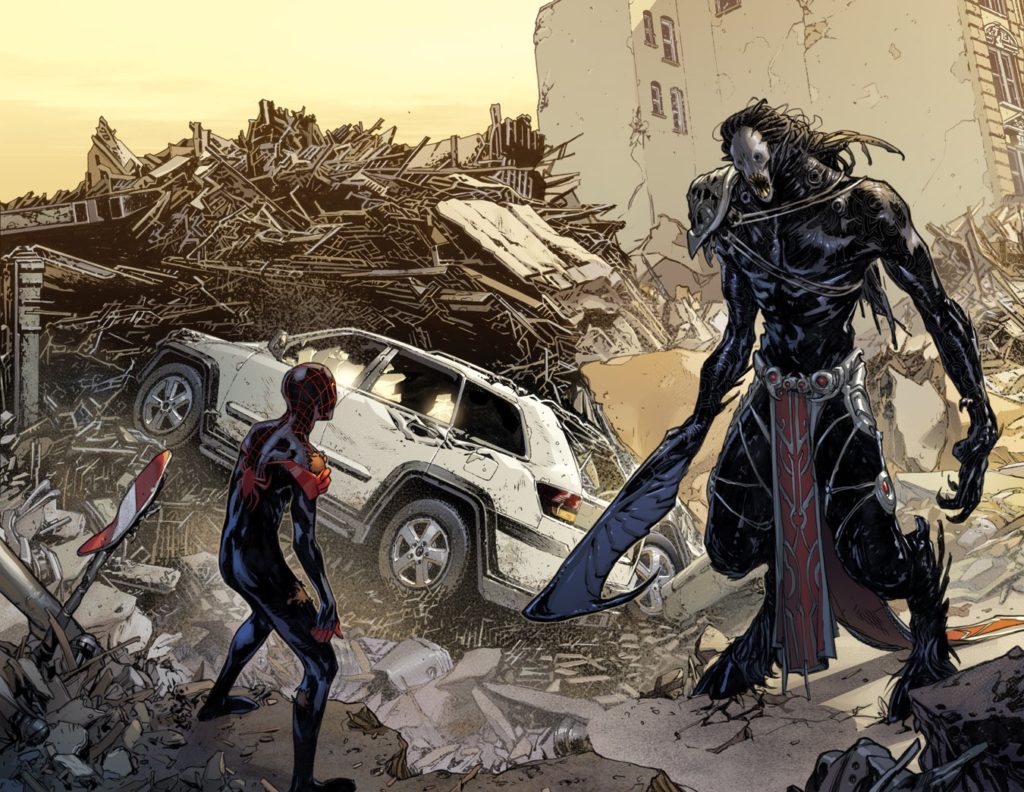 Likewise, Pichelli's art is enough reason to pick up this one. From the way she draws bombastic action scenes to the quieter character moments, every nuance in her pencils offers the kind of spectacle that Spidey comics depend on. All in all, this is a great start to Miles' new series, and one that has me stoked for the next trade to come out.
Rating: 9/10