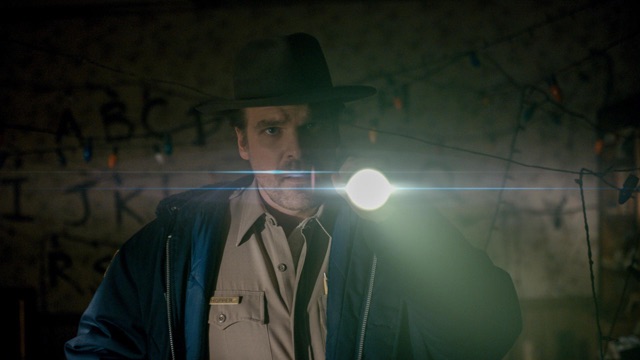 The premise of an 80s-set sci-fi mystery show that blends Spielberg with Stephen King was more than enough to catch my attention, but boy did Netflix's Stranger Things really blow me away. I rarely binge-watch a series, even if it's good, but I plowed through this one in two nights and remained hooked the entire time.
But what is it about this show that's generating so much discussion and positive response from critics? It hinges on some really familiar territory and oodles of nostalgia, yet audiences are loving it as much as they love groundbreaking modern shows like Mr. Robot and Orange is the New Black. How did creators The Duffer Brothers manage to make an 80s love letter feel so inexplicably fresh?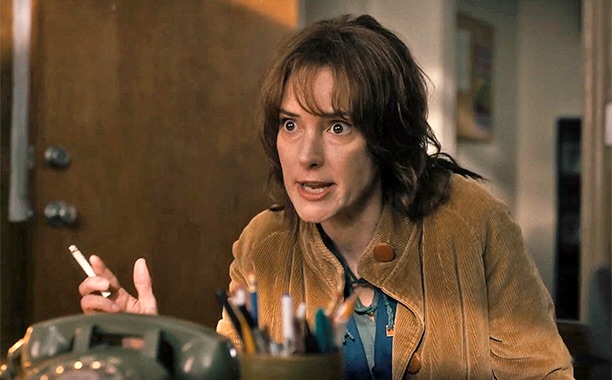 Now, this is a spoiler-free review, as I really don't want to spoil the surprises for those who haven't seen it yet. Basically, the first season takes place in the small town of Hawkins, Indiana, and revolves around the mysterious disappearance of a young boy named Will Byers (Noah Schnapp). His best friends Mike (Finn Wolfhard), Dustin (Gaten Matarazzo) and Lucas (Caleb McLaughlin) immediately go looking for him, while his mother Joyce (Winona Ryder) becomes paranoid by some bizarre otherworldly encounters in the wake of her son's disappearance. She frantically teams up with her eldest son Jonathan (Charlie Heaton) and the town's disgruntled Sheriff Jim Hopper (David Harbour) to find Will. Meanwhile, a strange girl with supernatural abilities, who only refers to herself as Eleven (Millie Bobby Brown), arrives in town with her head shaved and wearing a hospital gown, and crosses paths with Mike and company.
Now, some of you are probably thinking, "Kev, I thought we weren't supposed to indulge in nostalgia for the sake of nostalgia and that filmmakers should strive to do something new, and you're always talking about how creativity is dying in Hollywood." Ok, yeah I've said variations of those things before. But the thing is Stranger Things does a fantastic job paying homage to Spielberg, King, John Carpenter, Sam Raimi and some other greats, while still managing to do something different and subverting our expectations. What the Duffer Brothers have done is produced a love letter to the stories that they grew up with, while also giving this kind of storytelling a fresh spin. The difference between it and nostalgia flicks like Jurassic World and the new Ghostbusters is that this show feels significantly more organic and gives audiences a real reason to care about its characters.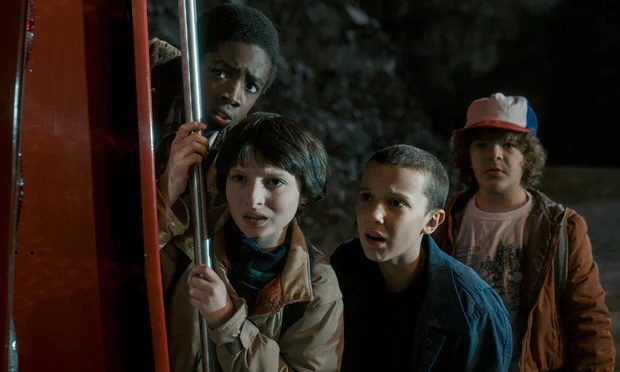 The movie everyone's comparing it to is J.J. Abrams' Super 8, which is valid. Both are tributes to Spielberg, use more old-school filmmaking techniques and came out in the 21st Century. And in both cases, the filmmakers and actors do a fantastic job making us feel a genuine sense of empathy and connection with each character. Even the teenage melodrama in Stranger Things, which centers around Mike's older sister Nancy (Natalia Dyer), her douchey boyfriend Steve (Joe Kerry) and eventually Jonathan, didn't drive me crazy and was actually pretty engaging. It's a testament to each of their performances, and to how they're written as fleshed-out characters rather than full-on stereotypes, that I was interested to see how this subplot played out.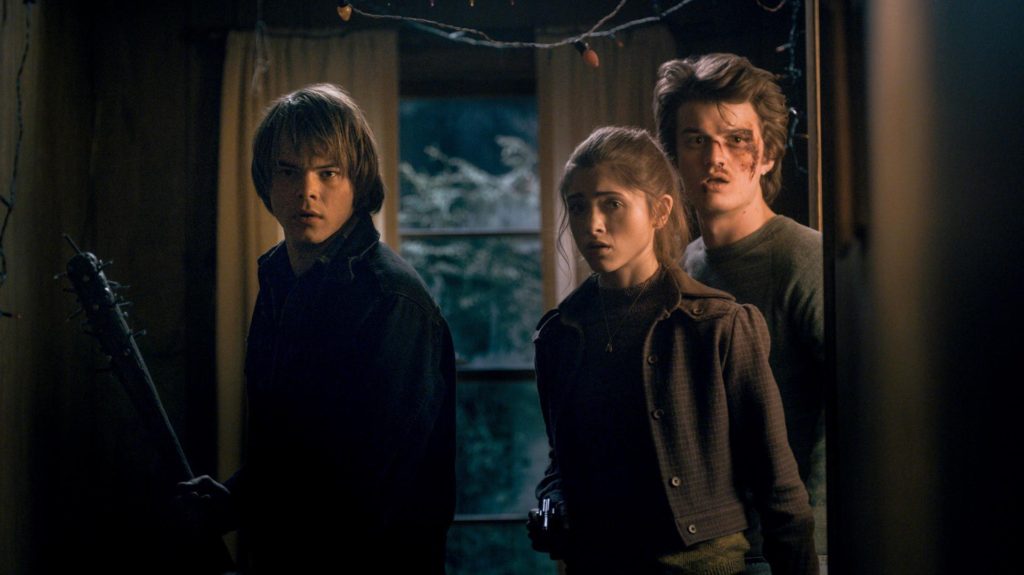 On that note, the acting is pretty stellar across the border. Ryder of course brings her A-game, particularly in the scenes where she knows there's something strange going on but no one else believes her. She brings real passion and energy to her performance, and maintains that throughout. The chemistry between her and Harbour is flawless, and I like how Harbour approaches Hopper as a man inwardly tormented by a tragedy from his past, but who's still pretty grounded in reality.
Then there's the child actors, who are some of the best I've seen in a while. They don't just stand there and say their lines, but are instead totally into their characters, and their interactions are superb in every scene. Dustin might just be my favorite kid best friend on tv since Neal Schweiber in Freaks and Geeks, as his hilarious one-liners are brilliantly juxtaposed with his Samwise Gamgee level of wisdom. Wolfhard is great as the empathetic team leader, McLaughlin is dynamic as the fearless member of the group who will stop at nothing to find Will, and Brown deserves an Emmy for the way she gives her alien-like character a range of human emotions. The casting genuinely could not have been any more perfect.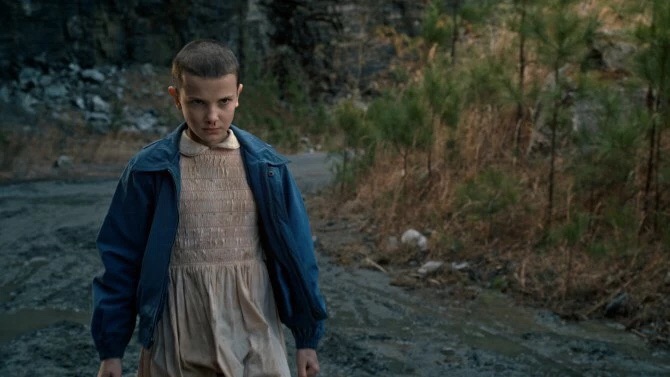 I can't emphasize how addicting and spectacular Stranger Things is, and how if you love this kind of sci-fi you have to watch it. The Duffer Brothers speak to multiple generations with this show, and I'm sure that for them creating it was a labor of love. Hopefully we'll be hearing more from these guys very soon.